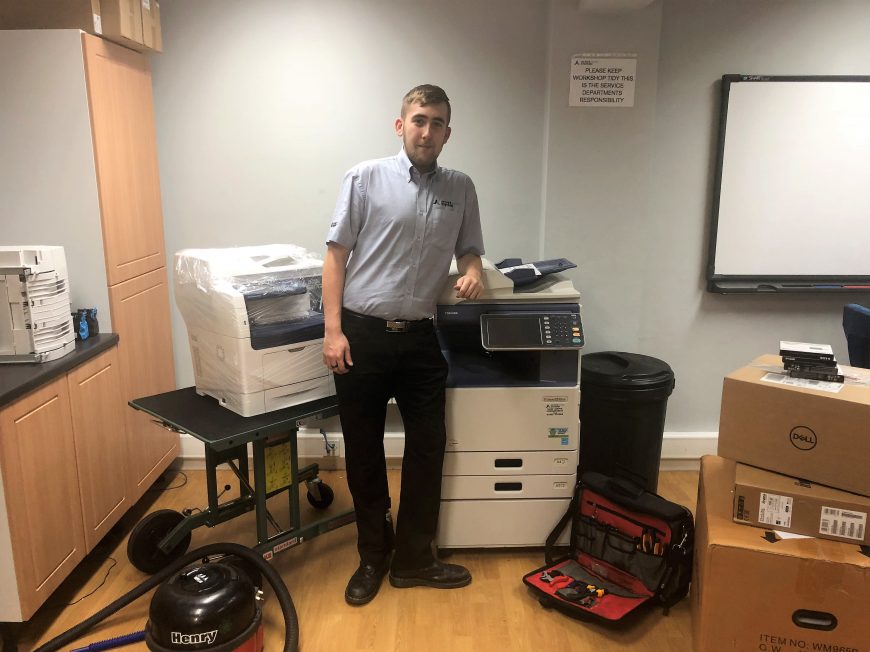 As the new academic year gets underway, we have taken the time to reflect on our successful apprenticeship scheme.  To date six fresh faced apprentices have walked through our door ready to embrace, sometimes with a little persuasion, the working life.
Having successfully completed a qualification with us, we now have two members of staff who understand and work adhering to our procedures and systems, having had no previous experience.  We are very proud of them.  We currently have two new apprentices working towards their qualification.
The qualifications that our team have gained, or are studying for are:
NVQ in Warehouse Handling and Stock Control, and various Toshiba maintenance courses
NVQ2 in Business Administration & ICT level 1,2,3
NVQ in Business Administration
Dennan joined us in December 2016 and is now beginning his journey to becoming a field-based service engineer.  To gain some insight, we asked Dennan a few questions about his experience of the Active Apprenticeship Scheme:
1. How did you come to the decision that you wanted to do an apprenticeship scheme?
I didn't want to be in education anymore and wanted to get into work and earn some money.
2. What made you choose Active as the business to do your apprenticeship with?
I knew someone who had already started an apprenticeship at Active and she recommended it to me.
3. What were your initial thoughts when you joined us?
I liked it.
4. What would you say was the most difficult aspect of your training? Did you have any doubts?
The coursework and deadlines were the hardest part, the job training was far more enjoyable. I didn't have any doubts.
5. Can you think of a moment that cemented your decision to becoming a service engineer?
Yes, when I accompanied the other engineers on installs and calls I realised that there was a great job that I could work towards. Active have encouraged me in this, even paying for my driving lessons and test!
6. What would you say to someone who is contemplating taking this educational journey?
Do it, you can earn whilst learning and its better than college.